"Alone we can do so little; together we can do so much."
Helen Keller
Our #1 need is prayer. Become a prayer warrior for us. Lift our volunteers, clients, and staff up in prayer. Pray that hearts are opened as volunteers share Jesus and encourage a choice for life.
We have a special Hope Prayer Team comprised of those willing to pray at the drop of a hat. These warriors agree to get a text message at the very time we are seeing an abortion-minded client. Praying for the client to choose life and for the client advocate to speak words given from the Holy Spirit while the session is happening is powerful! 
Let us know you would like to join our Prayer Team by emailing us.
Support our Social Media Marketing
Our social media outreach is the first line of communication in reaching abortion-minded women. It consists of maintaining an up-to-date website that attracts abortion-minded women in addition to running ads on Google, and updating Facebook, Instagram and Twitter pages on a regular basis. Monthly costs for these outreach efforts run just over $2,000 per month.
To contribute specifically to this outreach, email Kathy Krekel or call her at 505-995-1998.
Play In and/or Sponsor Our Golf Fore Life Tournament
Our Golf Fore Life Tournament is one of our Center's three main fundraisers. The Tournament is held in the summer at the Marty Sanchez Golf Course in Santa Fe. By participating in or underwriting this event, you are helping to ensure that we can continue offering our services for free. Every penny raised from the Tournament goes directly to support our mission.
For more information, email Kathy Krekel or call her at 505-995-1998.
Help Underwrite Our Banquet
Our annual Banquet is our largest fundraiser of the year and typically held in October. This year, due to Covid-19, we will morph this previously lovely evening out into a virtual event. The good news of this is that we can reach many more people through social media than we could physically bring into the Santa Fe Convention Center. By underwriting the banquet, your company's message will be put directly in front of 500 or more people without distractions or interruptions with the added bonus of these "ad dollars" going directly to saving the lives of unborn babies.
For more information, email Kathy Krekel or call her at 505-995-1998.
Sponsor or contribute to a Billboard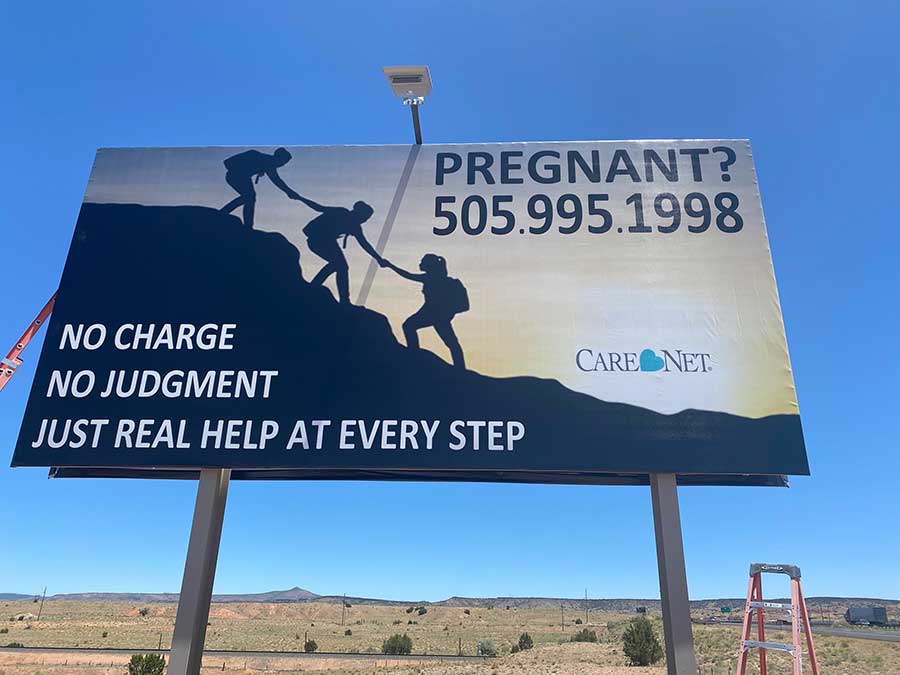 One way that we can reach abortion-minded women in advertising is through billboards.
If you would like to sponsor or contribute to a billboard, email Kathy Krekel or call her at 505-995-1998. 
Help Us with Ongoing Material Needs/Supplies
Sanitary Supplies– toilet paper, paper towels, Kleenex, cleaning supplies, etc.
Office Supplies– reams of copier paper, ink cartridges, binders, files, etc.
Food Supplies for Clients – snacks, peanut butter, crackers, bottles of water, sodas, etc.
Gift Cards to big box stores like Walmart, Target, SAMs Club, Office Depot
Restaurant Gift Cards used to bless clients & as thank you gifts
Travel miles to help defray costs of sending staff to educational events such as the Annual Desert Rose Women's Center National Educational Conference
We are primarily funded by individuals like you, churches and businesses. Click here to learn more about the various ways in which you can help keep our services free.